Personalised Printed Pens
Our personalised printed pens are ideal for any event or for marketing purposes as give-aways.
We produce them from stock and they can be purchased in any quantity required. The custom made pens are printed and dispatched within 1 working day and most of the time they will be with you next working day.
Select the prefered design and start the easy process or customisation!
Highest Quality
Quality printed labels and stickers
Timely Delivery
Delivery time (1-2 business days)
Eco-Minded
All our products are eco-friendly
Free Shipping
100% happy & satisfied customers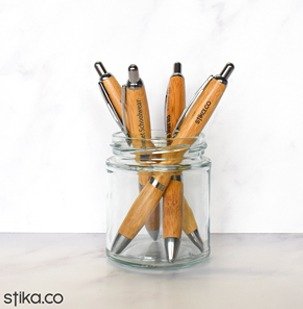 Eco-friendly Bamboo Pens
A sustainable and biodegradable product.
Pen with a curved bamboo barrel and chrome details.
Contour Extra Retractable Grip Pens
Plastic pen with rubber grip and chrome details.
Large printable area for your text or logo.
Silver Contour Promotional Pens
Curvy Contour Argent a silver satin finish push-button pen, with shiny contrasting chrome detailing.
Plastic pen with rubber grip and chrome details.
White Chrome Personalised Pens
White and silver personalised pen with chrome trim.
Engineered for a comfortable and pleasurable writing experience.
Black Gloss Pens
A beautiful black gloss personalised pen with great chrome trim.
Custom printed pens with your details.
Eco Friendly Recycled Ball Pens
Care for the environment with this Eco-Friendly Ballpen ethically sourced product made from recycled cardboard
Retractable Curved Grip Pens
Custom printed in full colour on a white plastic barrel.
Your print requirements will be resized for optimal fit in the print area.
Spectrum Max Personalised Pens
Custom printed pens with your text on 2 separate lines or your logo.
Bigger printable area for more personalization.
Premium chrome grip Ballpen
Plastic push-button ball pen with a white barrel ideal for full-color prints.
A range of colored trims completes this perfect promotional product.
Nicola Serafini
12/11/2018
Simpatici, veloci e veramente bravi ! Continuate così 🙂
Impressed with the frame I bought from them. Great work guys!!!
Amazing quality pens with long lasting ink and brilliant print quality! Buy from this company!
Alex & Rachel Smith
25/03/2016
The best sticker printing and sign company in the World!